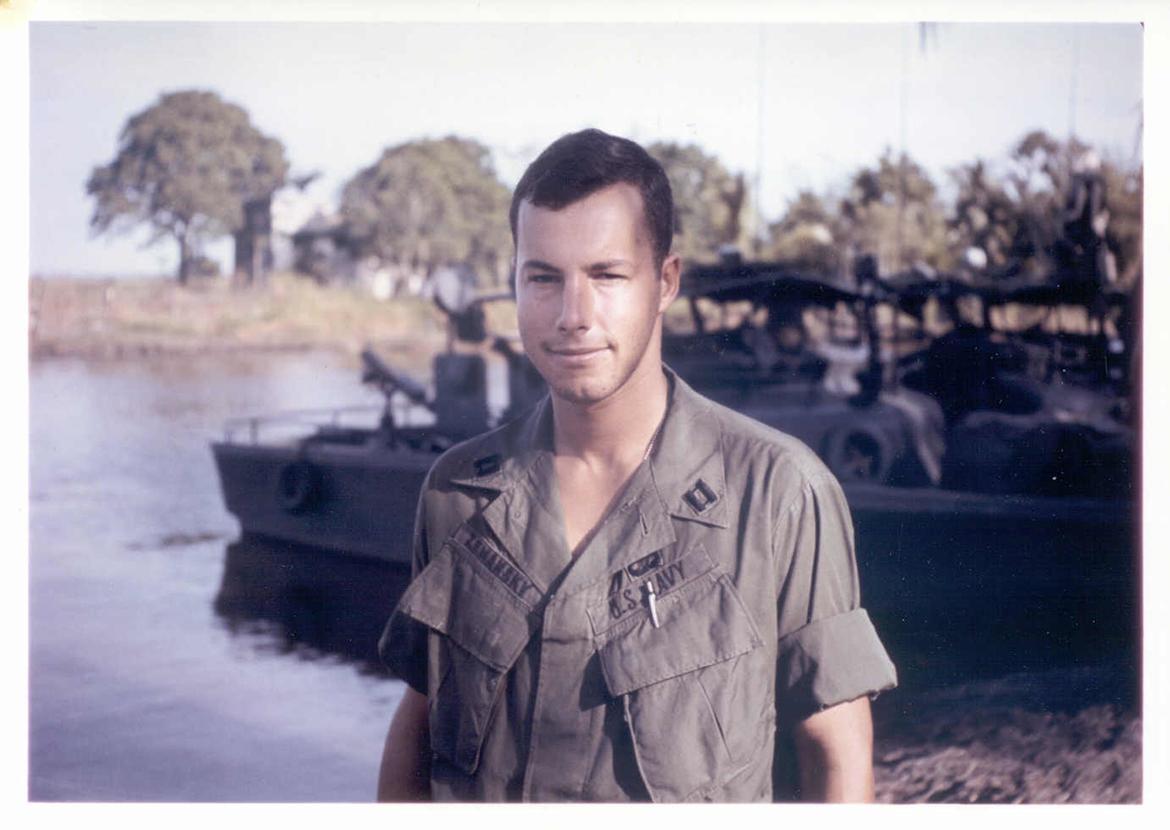 Gil Zemansky
Branch of service: Navy

Were you drafted or did you enlist? Enlisted

Dates of service: June 1961 - July 1971

What were the location(s) of your service and your MOS?
• US Naval Academy, Midshipman becoming a commissioned line officer.
• Nuclear submarine training and then assigned to USS Thomas Jefferson, SSBN-618, E&RC Division Officer.
• USS Seminole, LKA-104 Main Propulsion Assistant and USS Monticello, LSD-35, Engineer Officer (deployed for amphibious operations in Vietnam waters, primarily in I Corps coastal waters where we landed and supported US Marines).
• Senior Advisor, River Patrol Division 61 (Vietnamese Navy), Mekong Delta (river interdiction and support of offensive operations including the U Minh Forest campaign).

Position/Rank: LT, USN (O-3)

Awards/Medals/Citations:
Navy Commendation Medal with Combat V, Combat Action Ribbon, National Defense Service Medal, Vietnamese Campaign Medal, Expert Pistol Shot Medal, Vietnamese Cross of Gallantry, Regimental Level Bronze Star, Vietnamese Service Medal with Silver Star, Republic of Vietnam Armed Forces Meritorious Unit Citation (Gallantry Cross), Republic of Vietnam Certificate of Satisfactory Achievement (Division Level)

What are your strongest memories from your time in the military, specific to the Vietnam War era?
Parachute training at Ft. Benning, GA with soldiers who formed the 1st Cavalry (Airmobile) Division. Temporary duty with Underwater Demolition Team 11 at Coronado including parachute training jumps. Amphibious operations landing US Marines in I Corps south of Da Nang with early morning landings and retracting for late night refueling/rearming. Parachute training jumps with a Seal Team in the Philippines. Counterinsurgency warfare training at Coronado, with SERE training in the Anza-Borrego desert (including exposure to interrogation methods) and small unit infantry tactics at Camp Pendelton. River interdiction operations on river patrol boats (primarily night patrols and setting ambushes) in the Mekong Delta along the Cambodian border between Ha Tien and Chau Doc and the Cai Lon River SE of Rach Soi. My first night with dysentery sweating on a bunk aboard an LST in the middle of the Mekong River with hand grenades going off all night in the water for security. Receiving a "Dear John" letter from my wife part way through my last year in-country. My unit not receiving any mail for about three months because Saigon had apparently lost track of us. The good news and the bad news inherent in COMNAVFORV putting out a radio message to all naval units in-country asking for suggestions on how to win the war. Support operations for the Vietnamese 21st Division in the U Minh Forest campaign. Support operations for the SEAL team detachment at Rach Soi. Night operations observing our machine gun tracers and rockets fired from supporting helicopters. The noise of outbound artillery fired over our heads. The adrenaline rush when there was incoming fire. The frustration of trying to get fire and medevac support when US support forces were being pulled out but we were still there. Waiting one evening with a wounded sailor for the medevac helicopter that never came. The satisfaction of working with the good men in my unit (American and Vietnamese) and the good relationship my sailors achieved with our Vietnamese counterparts. The feeling we were betraying our Vietnamese counterparts when we starting downsizing the American advisory unit and began leaving our Vietnamese counterparts with an unfinished war. My last supper in Vietnam having dinner in Saigon with members of the SEAL team my unit had worked with and knowing we were all going home to the US the next day.

Have your views on the American War in Vietnam changed over time? Why or why not?
When I first went to Vietnam I thought I knew why we were there and that there was a good purpose, but after awhile I became disillusioned with what I was seeing and how the war was being conducted, regardless of any possible overarching purpose. After awhile it became primarily a personal thing to do the best I could for my unit and our Vietnamese counterparts. When I left I tried not to think about it. For various reasons I remain conflicted with what happened and my part in it.

What impact has the American War in Vietnam had on you since returning home?
It was clear to me by the time I went to Vietnam the last time that people in the US did not support the men we were sending there. We traveled individually in civilian clothes to Travis Air Force Base for transportation and left at night, returning individually after a year also in the middle of the night. It felt like we were being snuck out of and back into the US. I spent my first night back at San Francisco airport waiting for a flight to San Diego to muster out of the Navy. Since I had no civilian clothes in Vietnam I was still in my field uniform and the looks I got from civilians at the airport weren't friendly. My wife had told me before leaving not to expect that she would wait for me and she didn't. It took awhile before the memories of Vietnam receded, but I had work to do and they did. Mostly I tried not to think about it. It seemed that being a Vietnam veteran was a stigma. Occasionally I would meet people who had been anti-war protesters and it seemed in a strange way that we had something in common as the Vietnam War had meant something to both of us when others were untouched by it. It seemed relatively rare that I would meet a Vietnam veteran and when I did I usually found out afterwards rather than at the time. Vietnam veterans didn't seem to want to be identified. I felt a sense of loss and depression when the North Vietnamese invasion took over the south in 1975. It turned out that when I remarried it was to a woman who was being tear-gassed in Washington, DC protesting the war while I had been in the Navy in Vietnam. When there was a national discussion of sorts about recognizing Vietnam veterans that took place in the mid-1980s I wasn't interested. Seemed a day late and a dollar short. When John Kerry ran for President in 2004 I met other Vietnam veterans in various walks of life that supported him because of his service, but it seemed that Vietnam was still a stigma of sorts and it was acceptable to to the country to slander him for political gain. With the Vietnam war nearly a half a century in the past now, it seems like an irreconcilable tragic piece of history and given what has happened in the Middle East since the first Gulf War it seems like the military and public policy lessons of Vietnam were not learned by the country. When I hear about military advisors in Iraq or Afghanistan, it seems like deja vu all over again.