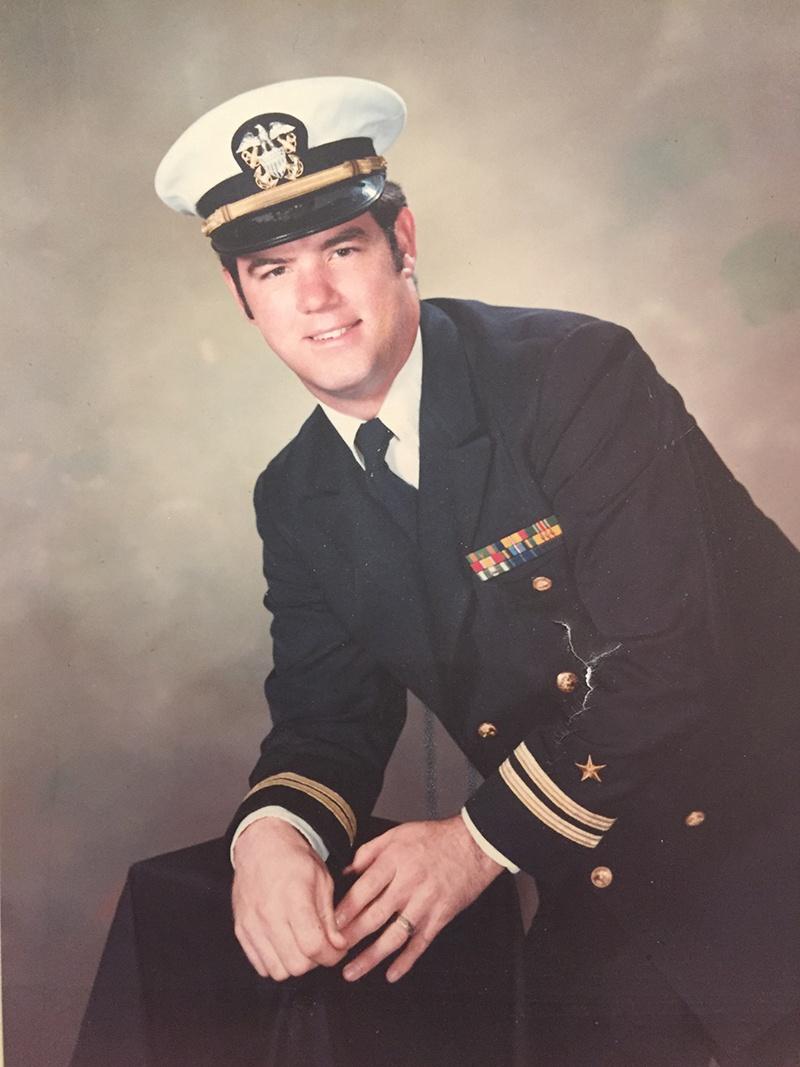 Stan Sexton
Branch of Service: Navy

Were you drafted or did you enlist? Enlisted

Dates of service: June 1970 - June 1974

What were the location(s) of your service and your MOS?
Gunfire Support, I, II, II and IV Corps, South Vietnam;
Gunfire Support and Rescue, Operation Linebacker, North Vietnam Coast
Point Allison DMZ April 9, 1972
I was a Communications and Top Secret Material Control Office aboard the USS John R Craig, DD-885 and later Officer-in-Charge of PTF-17 and Chief Staff Office of Coastal River Division 23

Position/Rank: LT

Awards/Medals/Citations: Navy Achievement with Combat Insignia; Combat Action; National Defense; Navy Unit Citation; Vietnam Service; Vietnam Campaign

What are your strongest memories from your time in the military, specific to the Vietnam War era?
I graduated from KU in 1970 at 10 a.m. wearing a peace armband with other students protesting the war and at 2 p.m. was commissioned an Ensign in the Navy and left for Vietnam. Between my junior and senior years I spent two months at Yankee Station on the USS Oriskany, CVA-34, supporting the air war from aircraft carriers so it was very strange to return to college for my senior year. I quickly learned what a "holographic will" was, making one out every time we anticipated incoming fire during a fire mission. I lost two classmates, one who dropped out of KU and was killed within two months of arriving in Vietnam, and a second who graduated with me whose plane was shot down.
I remember clearly typing out the crypto message when Nixon resumed bombing of the North and witnessed Alpha strikes in Haiphong Harbor. I experienced the randomness and utter futility of war lead by senior officers. Holdovers from WWII and Korea, who never questioned anything, as if walking a dog with no control you end up wherever the dog goes and not where you want to go.

I remember rescued fighter and helicopter pilots shot down.

I remember letters and tapes from and to my wife while she continued to protest the war back in the States while I was in it.

Have your views on the American War in Vietnam changed over time? Why or why not?
I was against the war in college and experienced the 1969 unrest in burning of the Kansas Union and Lawrence while jeeps with 50 caliber machine guns patrolled Jayhawk Boulevard. I was against the war during my 19 months of deployment to Vietnam although instincts of basic survival are fueled by adrenaline which made one not for or against the war but just for surviving it. I returned to the Kansas Campus and law school in 1974 but President Bush's "shock and awe" campaign in Iraq awakened my antiwar feelings with a passion. I religiously watch PBS NewsHour whenever the new list of fallen appears. I am distrustful of any report about success on the battlefield having seen the shelling of five water buffalo reported as five "waterborne logistics craft" or WBLC. We repeat the mistakes of history because we don't know it and don't understand it.

What impact has the American War in Vietnam had on you since returning home?
I returned stateside and spent another 18 months in the Navy in Chicago at Great Lakes Naval Base to teach Naval reservists about brown water Navy tactics, which insulated me from the general community. I quickly started law school after discharge from the Navy in 1974 and began to practice and start a family. I let my feelings subside until our nation's response to 9/11 boiled those feelings to the surface such that I would yell and scream at the TV reports of the Iraq and Afghan wars. I blame General Tommy Frank for not going capturing Osama bin Laden in Tora Bora; blame the lack of strong statesman but the presence of Cheney and Rumsfeld for getting us where we are – ignoring the lesson of Vietnam and many others. So while I'm not a pacifist, I need a genuine reason for our country to commit US combat troops to battle. 58,000 deaths in Vietnam during a TV war has numbed us as a society to accept combat deaths in Iraq and Afghanistan to make us "safe at home". If that number were 58,000, and the dead included the sons and daughters of the elite and not just those who "volunteered", these wars would end.

Anything else you'd like to add related to the Vietnam War that we haven't asked you about?
My uncle cut me out of his will because he did not think I was a patriot due to my opposition of the war and the fact that I was a Russian and Soviet – Slavic area studies major. I had a lot of difficulty with my parents and family because of my opposition to the war even though I served. I played "Sit Down Young Stranger" by Gordon Lightfoot as my protest song.